pump cups
Showing all 3 results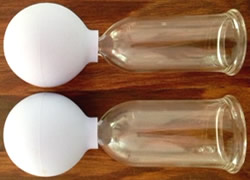 Dome cups
This set of Dome Cups comprises two beautiful, different sized cupping instruments, individually hand blown in Australia with a high quality imported German aspirator pump. They are especially suited for treatment throughout the arms and abdomen. The lip on the Dome cup is very smooth and these cups can be pumped to either light or surprisingly strong suction levels.
$

65.00
Add to cart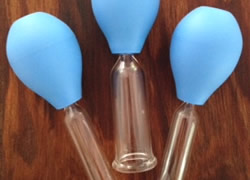 Facial cups
The three-piece set of differently shaped and sized miniature cups are designed precisely for facial applications. The rubber aspirator pump head for this set of cups have been imported from the USA. These are used to relieve facial tension, headache, sinus pain and some skin conditions including heated symptoms such as rosacea, rashes and pimples. Like the Dome Cups, they are a joy to use and feel very smooth.
$

65.00
Add to cart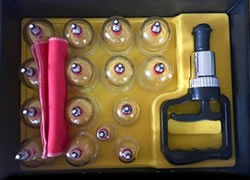 Vacuum Pump Set of Cups
Here is a set of 15 different sized plastic cups and pump in a sturdy carry case at a very affordable price. We have consistently used this product for over 15 years and it has proved to be reliable and easy to use. You can also comfortably treat yourself by applying three cups across the shoulder girdle, in between the deltoid spaces for example, to draw out fatigue toxins due to injury or overuse. They make an excellent buy and are just as good as far more expensive sets.
$

90.00
Add to cart