silicone cups
Showing all 2 results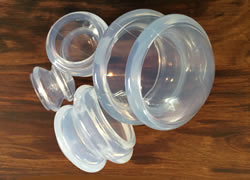 Clear flexible silicone cupping set
Four cups sizes per set for versatile treatment applications. Cup where you never thought possible with these premium quality new generation of cupping tools. They are made from food-safe quality silicone, are fully transparent and very easy to compress and apply, and feel luxurious when used for all cupping purposes, including sliding cupping. You can even submerge them in hot water and dry them off to apply hot on the body for additional pain relief and myofascial stretching.These really are a 'must have' for any cupping therapist! Buy two sets to synchronize bi-lateral cup placement and receive a price reduction. Each set of cups comes in a nice velvet bag with a comprehensive booklet of instructions. (PS: Please beware of poor quality imitations).
$

58.00
Add to cart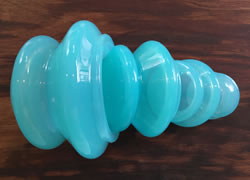 Semi transparent silicone cupping set
This set comprising four semi-transparent food-safe quality silicone cups of different sizes, are from large to small) 6.5cm diameter & 7cm height, 5cm & 5.5 cm, 4cm & 4.5 and 3cm & 3.5cm). They have a slightly more robust tension than the transparent ones. This allows them to draw marginally stronger on the soft tissue when required.
$

58.00
Add to cart