traditional medicine
Showing all 3 results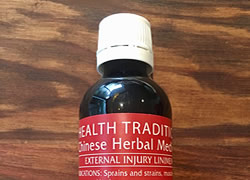 External injury liniment
Formulated and made by Health Traditions. The Chinese herbs, soaked in alcohol, have been used traditionally to rapidly assist in mending injured soft tissue, move qi and blood to reduce swelling and bruising, and dissipate pain. Applied before cupping is also a traditional method to aid healing. We use top quality Grade A herbs in quantities that ensure effective results. Each bottle is 100ml.
$

25.00
Add to cart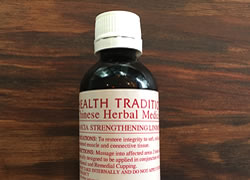 Fascia strengthening liniment
This herbal formula is designed to repair injured fascia. The Chinese herbs soaked in alcohol, are warming and absorb readily into the surface tissue. We have trialed and tested this liniment in conjunction with cupping, and the synergistic effect of the two is featured in the 'Cupping Deficiency' essay – where a case involving long term injury responded immediately (see p.26)*. We use top quality Grade A herbs in quantities that ensure effective results. Each bottle is 100ml. Not to be used during pregnancy."I find Health Traditions herbal Fascia Strengthening and External Injury Liniments to be essential in complete tissue repair – and my clients love it! When I use these in combination with cupping, I explain that the skin pores are warmed and open and so absorb the liniment so effectively – and the herbs do their job repairing connective tissue (fascia). I am also constantly using the External Injury Liniment for all kinds of soft tissue problems. An online order from the Health Traditions website arrives promptly at my busy Melbourne clinic."Tessa Mahy Soft Tissue Injury Specialist
$

25.00
Add to cart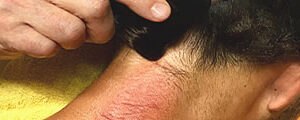 Gua Sha Course – Adelaide – November 17
The aim of the Gua Sha Day is getting practitioners on the right track with a thorough knowledge and practical skills-set for successful practice.We explore the methods and applications of gua sha, otherwise known as 'spooning'. By drawing a smooth edged instrument across the skin where an injury or imbalance resides, a distinctive reddening of the skin, known as "sha" can be observed. This is 'colouration' is a positive response and brings immediate and lasting benefits by reducing inflammation, coldness, tightness and pain from both the superficial and deeper levels of the body.Typically gua sha is very effective for treating all forms of injury, as well as heat syndromes, dizziness, chills and aches. In short, it has been said: "if there is illness, gua sha treats it; if there is no illness, it strengthens our bodies".
$

280.00
Add to cart