Career Opportunities
Cupping can be taken into any healing setting. Having been practiced for so long by every culture should go a long way to highlight its adaptability and success as a treatment. The aim of this workshop is to equip the practitioner to be informed, creative and versatile while saving your hands and getting great results, even with stubborn and otherwise difficult cases.
Two of the many Facebook Health Traditions Cupping Posts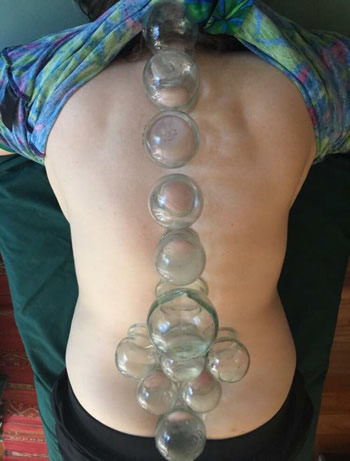 Lifting the yang and harmonising the interior
You could think of this treatment as a cupping version, worth at least multiple doses of a modified Bu Zhong Yi Qi Tang (Tonify the Middle to Augment the Centre) TCM herbal formula.
In her late 40's, the patient had long term profound fatigue, dizziness, abdominal distension with pain and heaviness, aversion to cold, loose stools and mild anal prolapse. Her tongue (and complexion) was pale and her pulse was weak with characteristic spleen and kidney deficiency.
The first phase of treatment applied the concept of (my term) 'cupping deficiency' to Mingmen (Du/GV4) and Shen Shu (Bl23), followed by Bl 19 (Pi Shu) and Bl 18 (Wei Shu).
Phase Two of the treatment (this pic), had the cups placed in an ascending order to raise the yang along the Du Mo. At each point along the 'reservoir of the yang', and bilaterally with very soft cups to Shen Shu, the kidney shu (Bl23) points, the vacuum level and degree of warmth with each cup was precisely measured to harmonise and address the root of the problem, as well as embody the entire composition of her signs and symptoms. The single large cup is covering Wei Shu (Bl19/Stomach) and Pi Shu (Bl20/Spleen) - similar to getting an exponential effect by connecting 2 or more points with a single needle).
The patient reported a remarkable lift and improvement in her condition.
Many conditions can be treated by carefully designing the cupping treatment.
* Please read my essay "Cupping Deficiency" to help connect with the subtlety and depth of the process.
(See this as a Health Traditions Facebook post January 9, 2018)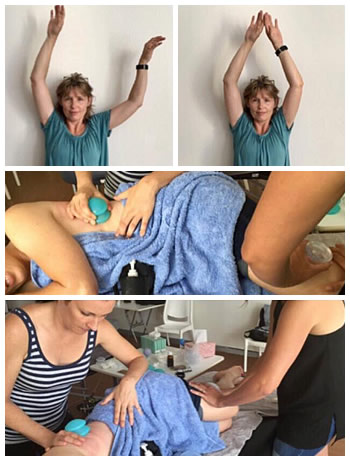 Results achieved by treating the aftermath of frozen shoulder
This student in the Modern Cupping Workshop had been unable to lift her arm higher for a year and a half, due to the aftermath of frozen shoulder syndrome. While she no longer had any aching, her mobility, as you can observe, was severely restricted. On the right shows her range immediately following treatment, which focussed on rectifying fascial adhesions and errant structure with flexible silicone cupping vessels. This is a permanent result.
Treatment: Palpation discovered knotted sheaths throughout the intercostal region, and some adhesions to the periosteum of the ribs underneath. The top pics show the gain achieved after 15 minutes of treatment.
To achieve this, two classmates are performing what's necessary. To the left, a flexible silicone cupping vessel is moved at "snail's pace" throughout the intercostal spaces, lifting and resolving the issues of grabbing and constriction. To the left, her co-helper is releasing the distal margin of the lateral fascial plane running down the middle-lateral surface of the leg. In the lower row, another angle is captured.
This is far from being a no-way a one-off, and the same procedure will produce as fine a result as this - when the same preconditions exist. In fact, I directed and received an almost identical procedure ten years earlier, in a first-up experiment to see if the fascial ramifications of a nasty anterior deltoid tear, which soon after developed to become a frozen shoulder, could be resolved throughout the associated fascia. One treatment was all it took to sort the issue, which had clung on stubbornly for five years, despite the best efforts I knew to sort the dilemma. It was then I realised that this new treatment would have far reaching benefits.
Photos taken during a Modern Cupping workshop conducted by Health Traditions (Australia). Posted on Facebook 2April, 2016.
Student Testimonials
"Thank you so much for the effort you put into the amazing Advanced Certificate in Integrated Cupping course. Loved every second of it."Kari Harrold
Massage therapist and pilates instructor
"I don't think I've ever spent 5 days learning so much in my life and I'm sure this will take my massage practice to the next level at the same time as saving my body from the stresses of extra work. It was amazing. Many Thanks Bruce... I'll be back for more."Joanne Terrans
Sports Massage Therapist
"What I loved most about this workshop was Bruce's ability to bridge Eastern & Western cupping perspectives seamlessly in his explanations & practices - wonderful class!!"Dr Kim U
Lic Ac (USA)
I have practiced acupuncture and cupping for the past 20 years. I attended the 5 day Advanced Certificate in Integrated Cupping Therapy with Bruce Bentley in Vancouver, Canada, and I was very impressed with his ability. He is the best cupping teacher I've ever had - and I've had quite a few. I learnt so much in the first half an hour of the course and even that was worth the tuition fee!Ward Willison
Acupuncturist, Canada
Certificate of Attendance
Upon satisfactory completion of either Cupping Workshop, an atractive certificate of attendance is given. In addition, upon satisfactory completion of our two cupping workshops, being the Master Class in Traditional East-West Cupping and the Modern Cupping Therapy workshop - an Advanced Certificate in Integrated Cupping Therapy will be awarded.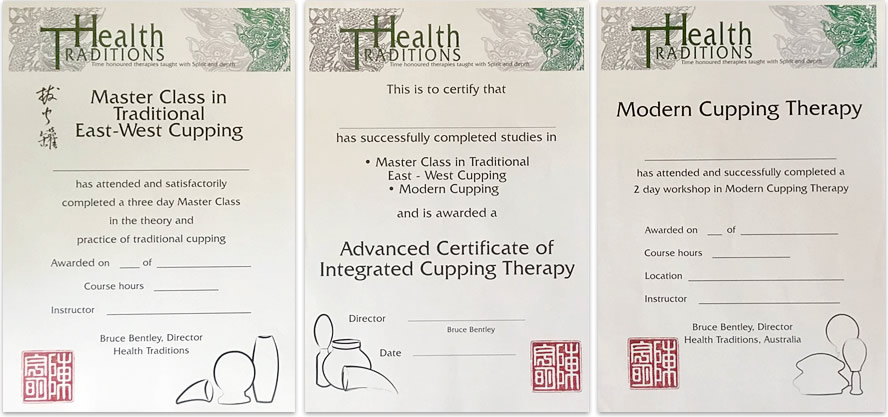 Note: Women who are pregnant should contact Bruce.
This was the best course I've taken in my 14 years of practiceDeborah Pacik
Lic Ac (USA)
This was an incredible experience. I highly recommend Bruce's class to anyone wanting to gain enormous knowledge and skill in a short time. Bruce's methods and knowledge are extraordinary. Loved every minute of it!Suzn Martinez
LMT (USA)
Just completed the 5 day Advanced Certificate in Integrated Cupping Therapy with Bruce Bentley. Wow - what a course. There was so much practical hands on information given drawn from many traditional medicine systems/therapies. The explanations and attention to detail was superb. The Modern Cupping component was equally as good. Teachers/ practitioners of Bruce's ilk are not easy to find. Was a real privilege to be able to train with him Brooke Allen, Shiatsu and Traditional Thai Massage therapist
(Hobart, Tasmania)
Thank you for enrolling with Health Traditions.
Our courses are taught with over 40 years of knowledge from hands on experience locally and abroad, with depth and spirit.
Bruce Bentley is the key facilitator of all courses at Health Traditions and is a leader in the industry. You are sure to come away from your session with passion, knowledge, experience and the confidence to bring your learned skills into your practise.
Please complete below form to confirm your enrolment.


Thank you for enrolling with Health Traditions.


Upon enrolment, you will be redirected to PayPal for payment in full. Refunds can be obtained up to 14 days before the course commencement upon discussion with Health Traditions Director Bruce Bentley
0435 410 799
.
An email will follow shortly to confirm your enrolment details and venue location.
Please take the time to read the following essays prior to commencing your course
A cupping Mark is not A Bruise
and
Mending the Fascia with Modern Cupping
. These essays are the introduction to the workshop and highlights some of the practices that you will be learning during the workshop.
NB. Please also read
Gua Sha smoothly scraping out the Sha
, for Gua Sha enrolment.
Upon enrolment you will be redirected to PayPal for payment in full.
An email will follow shortly to confirm your enrolment details and venue location. We look forward to hosting you.
Yours in health
Health Traditions