Gua Sha Day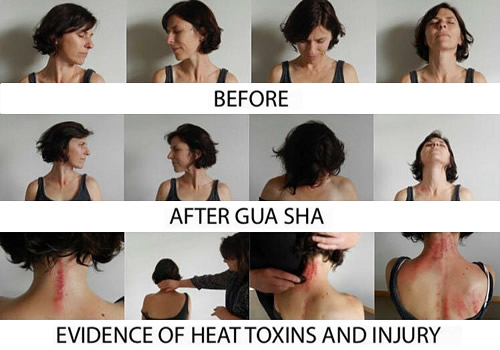 The aim of the Gua Sha Day is getting practitioners on the right track with a thorough knowledge and practical skills-set for successful practice. We explore the methods and applications of gua sha, otherwise known as 'spooning'. By drawing a smooth-edged instrument across the skin where an injury or imbalance resides, a distinctive reddening of the skin, known as "sha", can be observed. This 'colouration' is a positive response and brings immediate and lasting benefits in both the superficial and deeper levels of the body. Typically gua sha is very effective for treating various forms of injury. Recent research has shown that gua sha treatment is also successful in treating mastitis.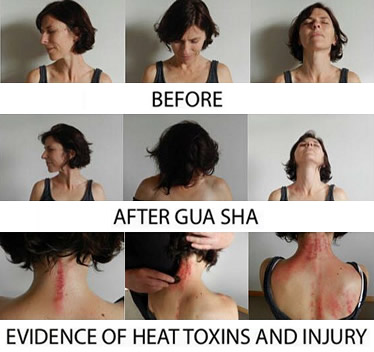 In addition, if there is a therapy that is a perfect compliment to cupping, then it is gua sha. For example, many cupping treatments are advanced by first being able to perform gua sha throughout the face, the scalp, along the occipital line and the neck (the latter being the case if cups prove difficult to administer).
Price: AUD $280
Enrol now
Background
Bruce has studied with expert gua sha practitioners including Dr Li, the gua sha specialist at the Shanghai Hospital of Traditional Chinese Medicine and the venerable Phap Thang, who as a young boy in Vietnam was apprenticed to a wandering Buddhist monk and instructed in a rare lineage of medicine known as the Buddhist Wandering Monk Medical Tradition.

Bruce spent a weekly four hour class over twelve months with Phap Thang as his first and only student. The latter instruction included exceptional information on gua sha practices. In 2002, Bruce was also employed as a full-time researcher for the Victorian State Government (Australia) to conduct an in-depth 12 month research project and he wrote-up his results in a 180 page submission titled "Folk Medical Practices in the Vietnamese Community". Once more, further excellent and otherwise difficult to obtain information, especially on gua sha (known in the Vietnamese community as cao gio) was obtained. Read Bruce's recent essays Gua Sha: Smoothly scraping out the Sha and Gua Sha and the Buddhist Forrest Monk Medical Tradition

During his time engaged with the Vietnamese community in Melbourne, while employed by the Victorian State Government researching "Vietnamese Folk Medicine" project omit commas and project, Bruce was also invited to give a half day lecture and demonstration on "safe practice and best method for performing gua sha and cupping" at the Quang Minh Buddhist Temple in Braybrook, Melbourne. It was attended by over 300 people from the Vietnamese community.
Course structure
1 day
Gua Sha Day

Class Timetable
9 - 9.30am
Introduction: an historical overview and explanation of 'sha' and how it affects the body.
9.30 - 10.00am
Discussion concerning the best tools to use for gua sha, and the appropriate methods and levels of pressure to get the best results. Discussion includes contraindications and cleaning requirements.
10.00 - 10.15am
Break
10.15 - 10.45
Demonstrations of how to apply gua sha.
10.45 - 12.30
Student practice: Treatment for the face and head to benefit headache, fatigue, heatedness including sunstroke, tiredness of the eyes, facial palsy and more.
12.30 - 1.30
Lunch
1.30 - 2.45.pm
Student practice: Gua sha throughout the neck. shoulders, arms and back to treat injury, fever, common cold, stiff neck, stress and fatigue, reduced mobility and more. The latest research and treatment for mastitis will also be presented.
2.45 - 3.00pm
Break
3.00 - 4.00pm
Student practice: performing gua sha throughout the hips and legs to benefit restless legs syndrome, hip pain and
4.00 - 5.00pm
Student practice: learning and practicing a complete body treatment, including on the abdomen, using gua sha to improve circulatory disorders, aid digestion and intestinal function, strengthen the entire, body and boost the immune system
Two of the many Facebook Health Traditions Gua Sha Posts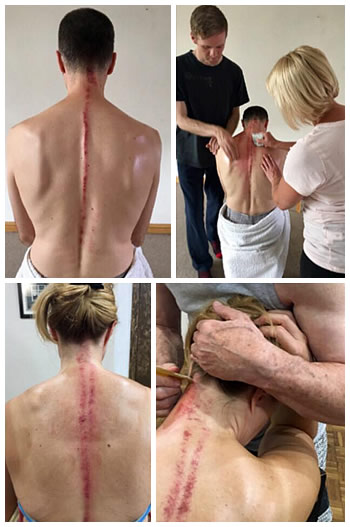 Both these people receiving gua sha remarked on the chronic pain and tension they felt throughout their neck and back, and in particular along the length of the spine. Examination discovered sharp pain elicited when the intervertebral spaces were probed, and both responded with a resounding "yes", to the simple, yet very neglected question, "do you feel an uncomfortable degree of heat throughout the spine?" Heat manifesting into "sha", a heat toxin, is formed when these spaces become compacted and jammed up.
The obvious line of redness seen down the mid axis, demonstrates this concentration of heat, previously locked within, been brought to the surface during and treatment. Immediately after, both people experienced marked relief and increased mobility.
Please note: To achieve an excellent result, Gua Sha should be performed at a comfort level for the patient - not performed harshly as is too often the case.
Posted 28 October, 2016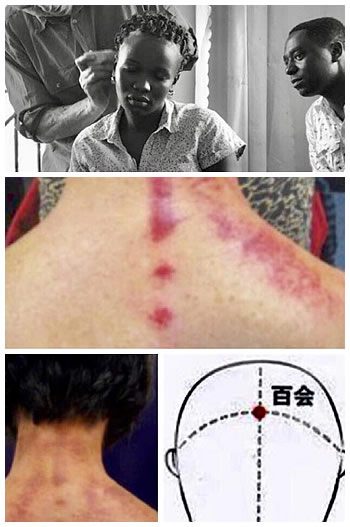 The top photo: A part of the course of action using Gua Sha techniques to eliminate temporal headache. Photo taken during class with doctors at the Tenguru Hospital in Tanzania.
Below: What to do if you suffer sunstroke. This is especially called for when a cold/icy towel on the back of the neck while eating cooling watermelon is just not going to cut it.
In 1998 I was in Xinjiang province in China's north-west, travelling by bus to Tianshan, known as one of China's "three furnaces". In these shimmering desert landscapes people mostly live underground and not a soul is seen when the sun is high. On the way there, I passed "Flaming Mountain", made famous by its description in the classic "Journey to the West", aka "Monkey". It was incredibly hot as I sat on the back seat of a bus for four hours with the sun beating down on the back of my neck. When I arrived, as I was getting off the bus, I felt a bit shaky; an hour later as the sun began to sink, I felt decidedly unwell and emotionally unhinged. It is after all no less than having your brain fried.
It was my first experience of summerheat syndrome (heat exhaustion) and luckily my hotel manager knew what to do. As I sat outdoors in the eating area shaded by grape vines, he noticed how my world was falling apart and said: "We get this all the time, let me fix you up." He did gua sha to the top of my head, beginning at the point Bai Hui (Du-20) and scraped some 6–7cm (two inches) towards my forehead. Next, from Bai Hui, he scraped the same distance to the left and right side of the point, and then down the midline towards the back of my neck. Each line fanning out in 4 directions from Bai Hui was performed 20 times. By the time this phase one was completed, I experienced a palpable pouring out of heat leave from the top of my head, in the form of an ascending column.
He concluded by scraping from Feng Chi (GB20) down the midlines of both sides of the trapezius muscles. The entire process took only a few minutes and immediately I felt like I had never had a problem in the first place!
It was truly an impressive recovery and I know of no other method that would have come close to the benefit I got, let alone in a ridiculously short time. The explanation is this. The heat, which rises in the body (as heat does), was efficiently vented at and around the Bai Hui point, as well as released from the neck and upper back. My scalp and trapezius were a veritable mass of sha – and I could not have been happier. Isn't it terrific when we practitioners have such an effective and insightful healing experience - and having a hotel manager cum gua sha practitioner do it on site is just one example of what I love about Asia.
Posted 26 January, 2017
Student Testimonial
"Learning the correct way of performing gua sha and all its various applications in practice was a revelation. Since the class with Bruce - which was great - I use it often and with great success."Barbara Stephens
Remedial massage therapist and shiatsu lecturer and practitioner
Course workbook
Sample page from the 32 page Gua Sha Day workbook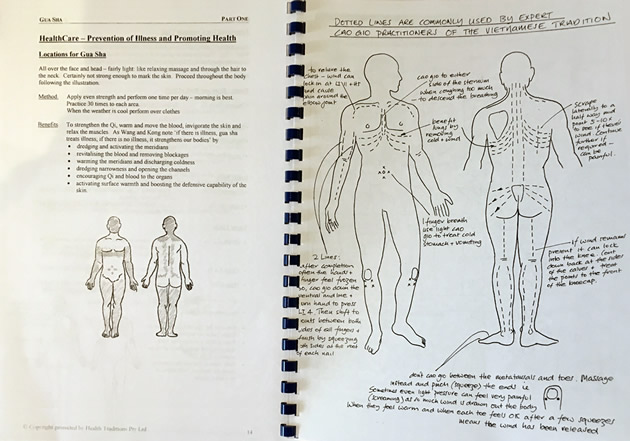 Note: Women who are pregnant should contact Bruce.
Bruce's Gua Sha Day is a great expansion on the minimal training most acupuncturists receive. His knowledge and experience shine through, and make for a fun, practice-centred experienceSimon Murray
Registered Chinese Medicine practitioner, Tai Chi instructor, owner of Transmute Health
After completing the Health Traditions Advanced Certificate in Integrated East-West Cupping with Bruce, I attended the Gua Sha Day. I have incorporated what I learnt into my practice and have found it extremely useful - as well as enhancing my cupping and massage outcomes.Leslye Muller
Remedial massage therapist and nationally accredited track and field coach
Thank you for enrolling with Health Traditions.
Our courses are taught with over 40 years of knowledge from hands on experience locally and abroad, with depth and spirit.
Bruce Bentley is the key facilitator of all courses at Health Traditions and is a leader in the industry. You are sure to come away from your session with passion, knowledge, experience and the confidence to bring your learned skills into your practise.
Please complete below form to confirm your enrolment.


Thank you for enrolling with Health Traditions.


Upon enrolment, you will be redirected to PayPal for payment in full. Refunds can be obtained up to 14 days before the course commencement upon discussion with Health Traditions Director Bruce Bentley
0435 410 799
.
An email will follow shortly to confirm your enrolment details and venue location.
Please take the time to read the following essays prior to commencing your course
A cupping Mark is not A Bruise
and
Mending the Fascia with Modern Cupping
. These essays are the introduction to the workshop and highlights some of the practices that you will be learning during the workshop.
NB. Please also read
Gua Sha smoothly scraping out the Sha
, for Gua Sha enrolment.
Upon enrolment you will be redirected to PayPal for payment in full.
An email will follow shortly to confirm your enrolment details and venue location. We look forward to hosting you.
Yours in health
Health Traditions