Current Professional Engagements
Director: Health Traditions
President: World Ethnomedicine Foundation (WEF)
Editorial Advisor: World Health Organization (WHO)
Registered Practitioner of Acupuncture and Chinese Herbal Medicine – Chinese Medicine Registration Board of Australia. Accredited practitioner Australian Health Practitioner Regulation Agency (AHPRA)
Accredited Tuina Practitioner – Australian Acupuncture and Chinese Medicine Association

Invited presenter at Conferences and Meetings in 2017
Rapporteur at WHO meeting in Changchun, China (March) for the 3 day 'Benchmarks for Tuina Practice' meeting
Rothenburg TCM Kongress, Germany (May)
Education
Bachelor of Health Sciences (Chinese Herbal Medicine) – Victoria University, Victoria (2000)
Master of Arts in Health Studies – Latrobe University, Victoria (1996) Coursework subjects: Medical Anthropology and Social History of Medicine
Bachelor of Arts (Honors Degree) in Sociology of Health and Illness – Latrobe University (1992)
Post-Graduate Diploma of Clinical Nutrition – International Academy of Nutrition, Australia (1984)
Bachelor of Arts (Sociology and Philosophy) – Latrobe University (1982)
Graduate Chinese Doctor's Training Acupuncture Program (5 years) The Chinese Acupuncture Hospital, Taiwan (1976 – 81)
Chinese Language Studies (Mandarin) – Taiwan University, Taiwan (1976 – 81)
Experience and research into Traditional Cupping
Bruce first learnt cupping as part of his Chinese medicine internships at hospitals and clinics in Taiwan from 1976 – 1981. This was followed by his Masters degree thesis in Health Studies titled Cupping as Therapeutic Technology, and his first research trip to Vietnam. In 1996, he was invited to China, where a special course on cupping was presented to him by chief physicians at the Shanghai University of Traditional Chinese Medicine. To investigate other cupping practices in China, Bruce also studied at the Tibetan Medicine Hospital in Lhasa, Tibet, and at the Uighur Traditional Medicine Hospital in Urumqi, Xinjiang Province. The following year, he visited the Australian Institute of Sport in Canberra for 3 days to exchange ideas and observe how the massage therapists and physiotherapists there employed cupping to treat sports injuries and enhance performance.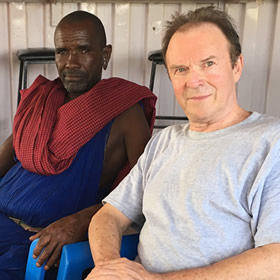 Midway through 1998, Bruce spent three months in Europe and North Africa. The first month was devoted to archival research at the Welcome Institute for the History of Medicine, the world's premier medical history library and research centre, London, and at the Department for the History of Medicine at Rome University. For the remaining two months he travelled to Sicily, Greece, Bulgaria, Turkey, Morocco and Tunisia learning local cupping traditions. Then in 2008, he returned to Vietnam for a month to study cupping, and then to Cambodia.
Following invitations from University departments of Traditional Chinese Medicine in the USA, together with requests from enthusiastic practitioners, Bruce began teaching his cupping workshops in the USA in 2008. His investigations since 2010 in the USA include: archival research at the New York Academy of Medicine and the National Museum of the American Indian at the Smithsonian Institution in Washington DC. Bruce also went into Navajo land in Arizona and spoke with first nations people about their cupping practices. Further research in Europe has included 2 six week trips to Greece in 2013 and 2014, travelling throughout the country gathering information from lay persons about their folk cupping practices.
In 2016, after teaching cupping and gua sha, to doctors and nurses at the Tenguru Hospital in Arusha, Tanzania (by invitation), Bruce then went bush and obtained many fascinating interviews and experiences with local cupping healers in remote areas. These interviews, and so much more information on cupping, can be read as posts at Facebook/Health Traditions.
Bruce has also taught cupping (and gua sha) at Victoria University and most recently in the Chinese medicine Masters degree programme in the School of Health Sciences, University of Western Sydney. He has also been an invited speaker at many conferences, including the big Rothenburg TCM Kongress in Germany in 2017.
Towards the end of 2017, Bruce taught the Advanced Certificate in Integrated Cupping Therapy to a 'full house' in Vancouver Canada. The entire Programme was filmed and will soon be available online.

Other important milestones adding to Bruce's knowledge about cupping (and gua sha) include his Victorian State Government appointment to conduct a research study in the Western region of Melbourne titled Folk medical in the Vietnamese Community (2002), and his apprenticeship with the Venerable Phap Thang in the rare Buddhist Forest Monk Medical Tradition.
Modern Cupping
Bruce has developed a new cupping system, which he has called Modern Cupping. The Modern Cupping Workshop is the result of over ten years of practice and discovering what can be achieved using new cupping tools, including flexible silicone cups to rectify discordant fascia. This is a world first therapy and is written up in the essay Mending the Fascia with Modern Cupping.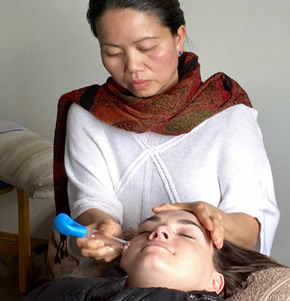 Without doubt, the flexible silicone cupping vessels used in the Modern Cupping Workshop are the superior instruments for this successful treatment. In this workshop other new innovative cupping applications are also presented including neck, shoulder and back treatments, arm and hand rehabilitation, facial cupping using small aspirator pump glass cups to clear sinus, headache and certain 'heated' dermatological conditions and treatments for cellulite, stretch marks and scars… and more.
Gua Sha
Bruce has studied with expert gua sha therapists, including Dr. Li, the gua sha specialist at the Shanghai Hospital of Traditional Chinese Medicine, who is introduced in the essay Gua Sha: Smoothly scraping out the Sha, and the monk Phap Thang, who as a young boy in Vietnam was apprenticed to a wandering Buddhist monk and instructed in a rare lineage of medicine known as the Buddhist Wandering Monk Medical Tradition. Bruce, as his only student, had a weekly four-hour class with him for over twelve months and they remain close friends. The latter instruction included exceptional information on gua sha practice and is written about in the essay Gua Sha and the Buddhist Wandering Monk Medical Tradition. In 2002, Bruce was also employed as a full-time researcher and conducted an in-depth research and wrote-up his results in a 180-page submission titled "Folk Medical Practices in the Vietnamese Community" for the State Government of Victoria. This experience allowed Bruce to learn otherwise impossible to obtain information concerning gua sha (known in the Vietnamese as cao gio).