Health Traditions Shop
Showing 1–12 of 37 results
Please take the time to read the following:
Rest assured that all the items you purchase from us are the best quality and ideal for the task. We go to great lengths to secure these and avoid any cheap versions that look similar but are poor imitations.
All orders are sent Express within Australia and to New Zealand. This is done to ensure safety, more care is taken to get your order to your address on time and the parcel doesn't go missing.
If you live outside Australasia, then please send us a message and we can send you a quote on how much shipping and handling would cost to your address.
Please include your mobile number when ordering so that automatic tracking is sent to you via Australia Post.
All orders over $300 qualify for free shipping. Please select FREE SHIPPING at checkout.
Payment options include sending money to Bruce's Paypal email or transferring money to his Westpac bank account.
All prices are inclusive of GST.
Any questions? Please contact us.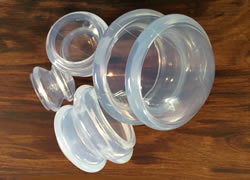 Clear flexible silicone cupping set
Four cups sizes per set for versatile treatment applications. Cup where you never thought possible with these premium quality new generation of cupping tools. They are made from food-safe quality silicone, are fully transparent and very easy to compress and apply, and feel luxurious when used for all cupping purposes, including sliding cupping. You can even submerge them in hot water and dry them off to apply hot on the body for additional pain relief and myofascial stretching. These really are a 'must have' for any cupping therapist! Buy two sets to synchronize bi-lateral cup placement and receive a price reduction. Each set of cups comes in a nice velvet bag with a comprehensive booklet of instructions. (PS: Please beware of poor quality imitations).
$

65.00
Add to cart